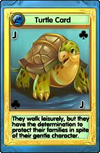 Equipment Cards are items received from quests or as monster drops. These items are used for inserting into your armor to improve various stats - ranging from Attack boosts to Intellect boosts and casting time increases.
Like most items, equipment cards also have certain requirements. There are only two requirements that need to be met, however - what type of item it can go into (armor or weapon), and an item level requirement. When an equipment card says something like "The lower limit of the applicable item is level 1.", this means that the armor or weapon has to be level 1 or higher for the card to be inserted into it.
Please Note: Quest rewarded equipment that does not list a level requirement seems to count as a Level 1 item, when it comes to inserting equipment cards.
Armor Cards
Edit
Weapon Cards
Edit
| | | | | |
| --- | --- | --- | --- | --- |
| Name | Type | Level | Location | Stat Bonuses |
| Giant Troll Sniper Illusion Card | Weapon | level 1 | Quest:Future Enemy | 4 minimum physical attack , 8 maximum physical attack , 9 magic attack , +2 to hit |
| Jungle Spider Card | Weapon | Level 10 | Jungle Spider | 10 magic attack , +3 critical strike |
| Bloody Sawtooth Fish Card | Weapon | level 25 | Quest:Hunting the Bully Fish | 18 magic attack |
| Kaster Card | Weapon | Level 30 | Kaster | 15 Min Attack , 15 Maximum attack , +300 Physical Def , +20 Magical attack , +80 Magical Def , +6 constitution , +5 damage reduction |
| Tyness | Weapon | Level 40 | | 24 magic attack |
| Fierce Wildcat Card | Weapon | Level 50 | | 7 minimum Physical Attack , 11 Maximum Physical Attack , +2 dodge ability |
| Screeching Harpy Card | Weapon | Level 50 | | 29 Magic attack |
| Bone Chewer Windcharger Card | Weapon | Level 40 | | 20 magic attack |
| Ruthless Invader Card | Weapon | Level 25 | | 5 minimum physical attack , 7 maximum physical attack , 6 magic attack , +18 casting speed |
| Resentful Soul Card | Weapon | Level 25 | | 8 minimum physical attack , 14 maximum physical attack , 18 magic attack |
| Bone Chewer Kobold Card | Weapon | Level 25 | | 20 magic attack |
| Woodland Wildkin Card | Weapon | Level 60 | | 11 minimum physical attack , 16 maximum physical attack , +3HP recovery rate |
| Silver Thunder Beast Card | Weapon | Level 70 | | 13 minimum physical attack , 19 maximum physical attack , +4 damage of physical critical strike , +4 damage of magical critical strike |
| Cave Kuru Beast Card | Weapon | Level 70 | | 11 minimum physical attack , 17 maximum physical attack , 19 magical attack , +11 devotion |
| Harmen Card | Weapon | Level 45 | Harmen chest | 36 Magic attack , 166 Magic Defense , +6Magic critical strike , +16 damage of magical critical strike |
| Augustine Card | Weapon | Level 50 | Augustine chest | 25 min physical attack , 35 Maximum physical attack , 555 Physical resistance , +5 physical critical strike , +5 damage to Physical Strike , +5 Physical critical resistance |